In celebration of Women's History Month, Lifetime Wellness, Ltd would like to honor women of all ages. President Jimmy Carter instituted the first Women in History week in 1980. An excerpt from his address proclaiming this week applauded women. 
From the first settlers who came to our shores, from the first American Indian families who befriended them, men and women have worked together to build this nation. Too often the women were unsung and sometimes their contributions went unnoticed. But the achievements, leadership, courage, strength and love of the women who built America was as vital as that of the men whose names we know so well. 

President Jimmy Carter
The theme for the 2023 campaign for Women's History Month is "Celebrating Women Who Tell Stories". People of all nations and backgrounds have a "story to tell".  Sharing the history of women is important. There have been significant victories for women in the United States since the inception of this country. There are many women of noteworthy praise that deserve to be highlighted. There are a few women chosen by Lifetime Wellness Ltd.,  that have contributed in monumental ways across the globe. May young girls catch the vision of these great women and lead the next generation to accomplish much more! 
Jeannette Rankin (June 11, 1880 – May 18, 1973)

Member of Congress, Suffragist, Peace Activist. Rankin began her political work in Montana when she led the successful campaign for woman suffrage in 1914. In 1916, running on a pro-suffrage and anti-war platform, she became the first woman elected to the US Congress. She voted against entering WWI and then worked for improved pay and better conditions for women in government. Elected to Congress again in 1940, she voted against entering World War II. In 1967, she led the Jeannette Rankin Brigade in a demonstration against the Vietnam War. nationalwomenshistoryalliance.org
Rosa Parks ( 1913-2005)
Rosa Parks helped initiate the civil rights movement in the United States when she refused to give up her seat to a white man on a Montgomery, Alabama bus in 1955. Her actions inspired the leaders of the local Black community to organize the Montgomery Bus Boycott. Led by a young Rev. Dr. Martin Luther King Jr., the boycott lasted more than a year—during which Parks not coincidentally lost her job—and ended only when the U.S. Supreme Court ruled that bus segregation was unconstitutional. Over the next half-century, Parks became a nationally recognized symbol of dignity and strength in the struggle to end entrenched racial segregation.
https://www.history.com/topics/black-history/rosa-parks
https://rosaparksbiography.org/bio/
Amelia Earhart( 1897-1937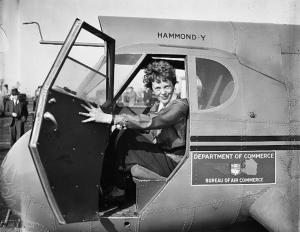 She never reached her fortieth birthday, but in her brief life, Amelia Earhart became a record-breaking female aviator whose international fame improved public acceptance of aviation and paved the way for other women in commercial flight. In 1935, Purdue University hired Earhart as aviation advisor and career counselor for women and purchased the Lockheed plane she dubbed her "flying laboratory." On June 1, 1937, she left Miami with navigator Fred Noonan, seeking to become the first woman to fly around the world. With 7,000 miles remaining, the plane lost radio contact near the Howland Islands. It was never found, despite an extensive search that continued for decades.https://www.womenshistory.org/education-resources/biographies/amelia-earhart    
In 2004, the United State Postal Service honored the Olympic champion by featuring her likeness on a 23-cent stamp. https://www.biography.com/athletes/wilma-rudolph 
These women are heroes in American history. These historical figures are women worthy of respect and honor. Young and old alike can admire the accomplishments of these women as the history of women is revered and celebrated throughout the month of March!
Lifetime Wellness, Ltd. is an advocate of preserving the legacy of women throughout the world and nation. Our partnerships enable us to help men and women, " age successfully",  as well as "Live life without limits." We celebrate women today and everyday!